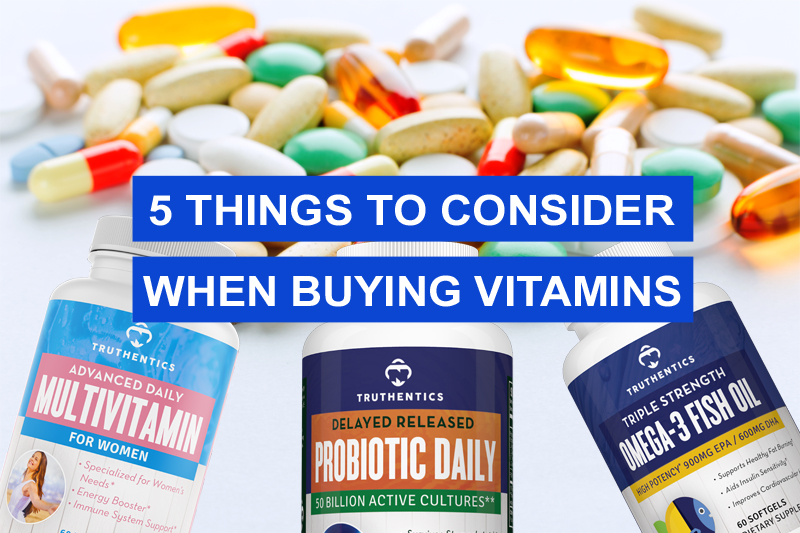 Most of us take vitamins to boost our nutrient intake in addition to our (mostly) healthy diets.
However, not all vitamins are created equally, and with our busy lives, it's easy to overlook the details. To make things easier, here is a list of five things that you should consider before buying your next bottle.
1. Are the ingredients non-GMO?
Genetically Modified (GMO) foods are grown using pesticides, herbicides and synthetic or chemical fertilizers. No matter how much they're rinsed and washed, the residue of these chemicals remain.
Research has shown mixed results as to whether or not GMO foods have negative effects on our health. However, products formulated without chemicals and synthetics are safer for both human consumption and the environment.
Look for the non-GMO seal on the variety of Truthentics products that we recommend including Truthentics Omega 3 Fish Oil, Truthentics Probiotic Daily, Womens Multivitamin, and Mens Multivitamin
2. Does it have certifications?
Organizations certify supplements to help ensure the product has been third-party tested for safety and efficacy. These certifications can typically be found on the bottle as seen on our recommended including Truthentics Omega 3 Fish Oil, Truthentics Probiotic Daily, Womens Multivitamin, and Mens Multivitamin.
Keep in mind, these certifications are optional, but it helps the consumer know the supplement is annually tested by a third-party organization.
3. Is it routinely tested?
In addition to annual certifications, it's helpful to know the product is tested on a more frequent basis. The manufacturer of the Truthentics brand tests batch-for-batch to ensure you get the same quality product in every bottle, which is one of the reasons we trust this brand.
4. Where is it manufactured?
As an extra measure of caution, it's good to know where your supplements come from. Look for supplements that are manufactured in an FDA registered and GMP-certified facility.
What does GMP-certified mean? Good Manufacturing Practice (GMP) is a system that ensures products are consistently produced and controlled according to quality standards. This simply means the facility receives announced and unannounced inspections to ensure safety and quality production.
We proudly endorse the Truthentics brand because they stand behind their top-quality nutritional products and manufacturing facility. Their products are all manufactured right here in the United States using the finest ingredients from the most reputable sources. Of course, their manufacturer is FDA registered and GMP-certified too.
5. Do others recommend them? How are the reviews?
Last but certainly not least, personal endorsements count as do reviews! Reviews are helpful in understanding the experience and results of other customers have had with the supplement. They also go toward the credibility of a company.
Be sure to check all of the sources for reviews, including the company's website, as well as on Amazon.com if the company sell there too.
I personally take and highly endorse Truthentics nutritional supplements, and so should you! It's my little secret to being able to maintain a healthy metabolism, support lean muscle growth, and keep my weight at an optimal level.
For more supplement and health tips, be sure to talk to one of our certified Genesis Nutrition Coaches or check out Truthentics.com.